All puzzle pieces are precision cut from 1/4" thick hardwoods that may include Mahogany, Oak, Cherry, Maple, & others.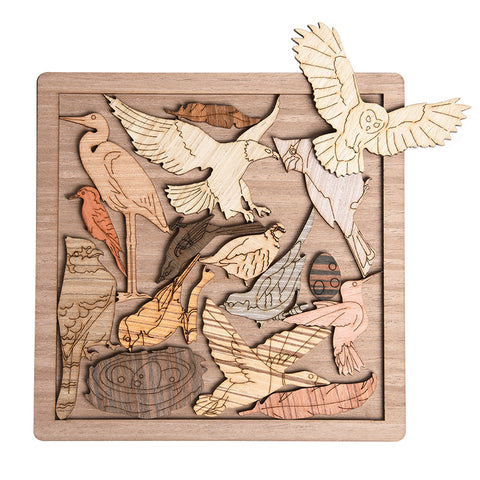 Unique gift idea for the bird lover in tour life. We can also personalize (choose engraving option) the puzzle with a laser engraved name or message.

Look for an Eagle, BlueJay, Cardinal, Owl, Chickadee, Mockingbird, Duck, Grouse, Egret, Hummingbird, Red Bellied Woodpecker, and Robin.

-PUZZLE SPECIFICATIONS-
*Difficulty Level – 4 (out of 5)
* Number of Pieces – 16
*Number of Players – 1
* Recommended Age - 12 and up
* Dimensions – 7.5" x 7.5"x 7.5"


The puzzle is both artistic & extremely challenging to solve. Comes with base and cover. Measures about 7" x 7" in the cover.
Processing Time: 3-7 days
Shipping Time
USA, Australia, Canada, Europe:
7-15 days (standard shipping)
South & Central America:
30 days (standard shipping)
Brazil:
20 - 30 days (standard shipping)
Middle East:
10-20 days (standard shipping)
Asia: about 7-15 days
Other Countries: about 20 days
Costs
* Standard Shipping: US $3
We offer free standard shipping for orders of more than $39 in value.
* Express Shipping: US $14~$19 (some countries)