12 cats and a mouse must be placed within the frame. An artistic and very challenging puzzle. At least 4 different hardwoods, 1/4" thick, are used in each puzzle. The pieces are precision cut and laser etched.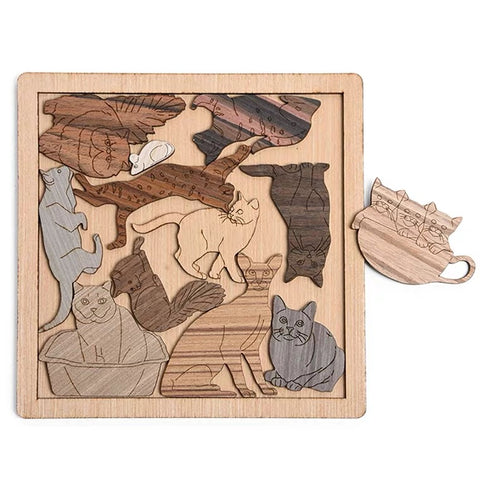 Types of cats represented are: Maine Coon, Korat, Kao Manee, California Spangled, Nebelung, Bengal, British Shorthair, Aegean, Persian, Peterbald, and some kittens. Also a lone mouse, poor little fella...
Processing Time: 3-7 days
Shipping Time
USA, Australia, Canada, Europe:
7-15 days (standard shipping)
South & Central America:
30 days (standard shipping)
Brazil:
20 - 30 days (standard shipping)
Middle East:
10-20 days (standard shipping)
Asia: about 7-15 days
Other Countries: about 20 days
Costs
* Standard Shipping: US $3
We offer free standard shipping for orders of more than $39 in value.
* Express Shipping: US $14~$19 (some countries)