GREAT AS A GIFT
This customize gift that will surprise and stay in memory. Each puzzle is packed in a premium wooden gift box.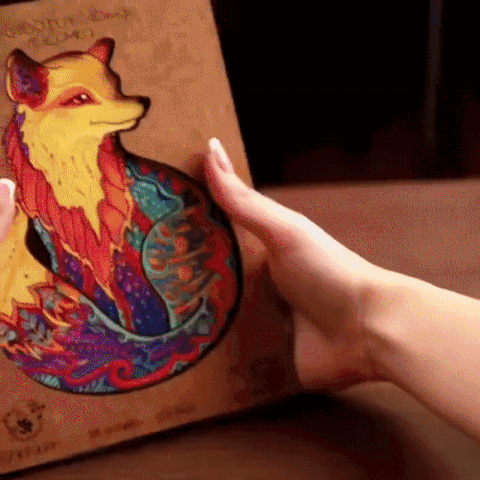 Important Info: S&M 2000*2000 Large Size 3000*3000
Each puzzle piece has its own unique shape.This is a high complexity of assembly (200 unique shape puzzles similar to 1000 usual cardboard puzzles in complexity)
Interesting for family or friends
All parts are cut from birch playwood so you can feel the woody aroma
This is not just a puzzle, it is a wooden puzzle. It will be a great gift for your family or friends.

S-21×14.9cm(8.6×5.8 in)
M-29.7×21cm(11.6×8.2 in)
King Size-42×29.7cm(16.5×11.7 in)
What is the distinctive feature of these puzzles?
All parts are cut from birch basswood, 3 mm thick.
As soon as the box opens, you will feel the woody aroma.
To create all these graceful figures, we used a high-precision laser.
Time with the Fox will fly by 
We Offer Worldwide Shipping
Shipping to the US takes around 10-15 business days. Tracking numbers will be emailed to you once the item is shipped!
100% Moneyback Guarantee
We take pride in providing quality products and carefully inspect products before shipment. In the rare case that the item is faulty, damaged during transit, please contact us for more help.
Processing Time: 3-7 days
Shipping Time
USA, Australia, Canada, Europe:
7-15 days (standard shipping)
South & Central America:
30 days (standard shipping)
Brazil:
20 - 30 days (standard shipping)
Middle East:
10-20 days (standard shipping)
Asia: about 7-15 days
Other Countries: about 20 days
Costs
* Standard Shipping: US $3
We offer free standard shipping for orders of more than $39 in value.
* Express Shipping: US $14~$19 (some countries)