Great as a Gift for XMAS💕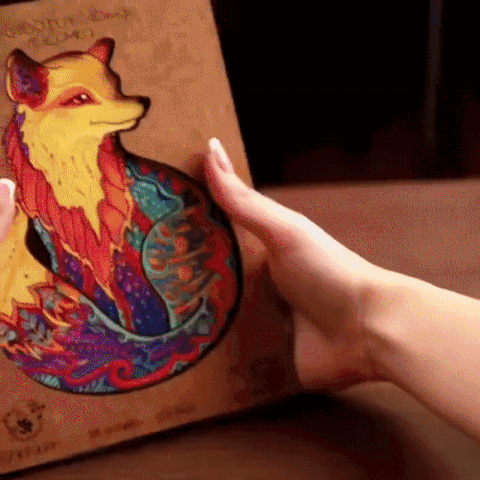 A gift that will surprise and stay in memory. Each puzzle is packed in a premium wooden gift box!
Each puzzle piece has its own unique shape.This is a high complexity of assembly (200 unique shape puzzles similar to 1000 usual cardboard puzzles in complexity)
Interesting for adults and children
All parts are cut from birch playwood so you can feel the woody aroma
As soon as you open the wooden box with a puzzle "Sparkling fish" you plunge into a mysterious and unique ocean world. Out of the open package marine inhabitants are looking at you and waiting to make acquaintance.
The fish is sparkling with rich colors. There is an exceptional ornament on its sides. Such a unique look of the fish is created by a designer. He also designed the ornaments on the owl. Another peculiarity and a mark of quality are presented by the special carving of the figures. For this purpose a high precision laser is used. Despite the delicacy and smallness of each figure, the parts fit another one firmly and accurately.
Traditionally in every package a little dragon named Souhoney is waiting for you. The box upper panel stand contains a picture.
Present yourself and your child or your friend with an interesting game. Gather a collection of the wooden puzzles. A little time will pass and a new interesting puzzle set will bring joy to its owners. 
Size
King size: A3
M: A4
S: A5
We Offer Worldwide Shipping
We will ship it 3-7 working days for that the products are made of wood, in addition to the need for printing and dyeing group. The process is more complex.
100% Best Service Guarantee
If the product or wood piece is broken or missed. Please contact with us by service@beefaa.com. We will remake and reship a new one to you. Don't worry.
Processing Time: 3-7 days
Shipping Time
USA, Australia, Canada, Europe:
7-15 days (standard shipping)
South & Central America:
30 days (standard shipping)
Brazil:
20 - 30 days (standard shipping)
Middle East:
10-20 days (standard shipping)
Asia: about 7-15 days
Other Countries: about 20 days
Costs
* Standard Shipping: US $3
We offer free standard shipping for orders of more than $39 in value.
* Express Shipping: US $14~$19 (some countries)